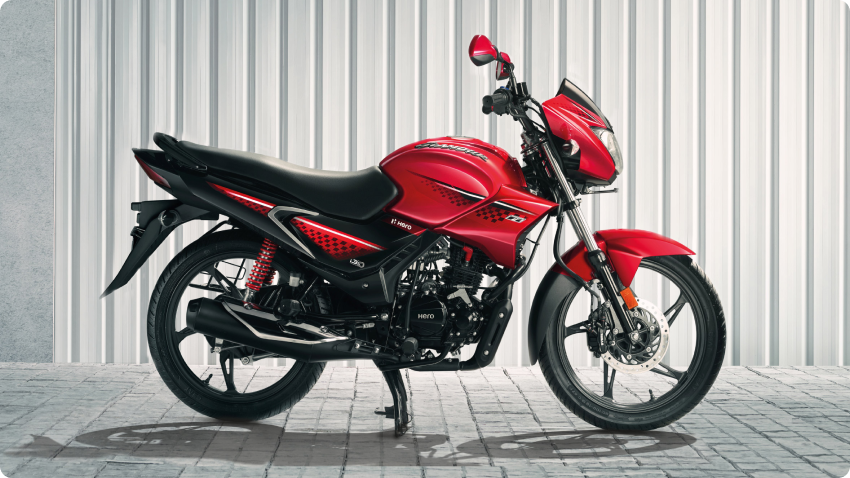 Is the Hero Glamour Suitable for Long Rides? An Expert's View
Picture this: The open road stretching ahead, the wind in your hair, and an adventure that awaits you. Long rides have always been a cherished pursuit among bikers in India. But when it comes to choosing the perfect companion for those epic journeys, the stakes are high. This is where the Hero Glamour enters the scene.
The bike has carved a niche for itself in the biking community. With its all-time favourite design, advanced features, and attractive price range, it begs the question: Is the Hero Glamour the ideal partner for those long rides?
Today, we aim to explore this question from an expert's perspective for a new model bike 2023 that is sure to delight its rider. Let's look at a few of the features first that the bike impresses us with.
Features that Make the Hero Glamour Suitable for Long Rides
1. Engine
The bike boasts an impressive air-cooled 4-stroke 124.7cc engine, generating substantial power and torque. With a maximum power of 7.75 kW @ 7500 rpm and torque of 10.4 Nm @ 6000 rpm, it is more than capable of handling various terrains and challenges that long journeys often present.
Furthermore, its exceptional fuel efficiency and i3S technology ensure that your fuel stops are infrequent, contributing to a hassle-free journey, along with standing strong on the promise that the Hero Glamour offers.
2. Design
In terms of aesthetics, the Hero Glamour features stylish design and is available in 3 colour options. The bike features a 3D logo and comes with an updated headlight. The fuel tank has been designed to give a sportier look, all adding to its visual appeal. It's a bike that will definitely turn heads on the road.
3. Technology
The performance and the design are just the start. The Hero Glamour comes equipped with an array of features that enhance the comfort and convenience of long rides.
The fully digital console keeps you constantly informed, while the real-time mileage indicator helps you manage your fuel consumption effectively. Features like built-in USB mobile charger make your journey smarter and more enjoyable, no matter how long it may be.
4. Weight
A kerb weight of 121.3 kg on the Self Drum Cast model and 122.5 kg on the Self Disc Cast model makes it one of the most lightweight in its segment. For those searching for Glamour bike price, it's worth knowing that the light kerb weight helps in the bike's handling and manoeuvrability immensely, especially on challenging terrains.
5. Suspension
Another consideration is the suspension. The telescopic front suspension and the 5-step adjustable hydraulic rear suspension make your extended journeys filled with extreme comfort. They absorb bumps easily and maintain stability, particularly on rough roads. An appropriate seat height of 790 mm also contributes to the rider's and pillion rider's comfort on long rides.
Some Useful Tips and Tricks for Long Rides
Planning a long ride, whether on the Hero Glamour or any other bike, involves careful preparation. Here are some tips and tricks to make your journey more enjoyable and safe:
Pacing Strategy: Plan your riding pace to avoid fatigue. Take regular breaks to rest and stretch.
Fueling Strategy: Be mindful of fuel stops, especially in remote areas. Carry extra fuel if necessary.
Pre-ride Meal: Consume a balanced meal before starting your journey to stay energised.
Segment Planning: Divide your ride into manageable segments with designated stops for sightseeing and meals.
Stretching Exercises: Perform simple stretches during breaks to prevent muscle stiffness.
Emergency Kit: Carry essential tools, a first-aid kit, and emergency contact information.
Prepare for Long Rides with a Reliable, Stylish Bike
The Hero Glamour, as one of the best new model bike 2023, can be an excellent choice for those who crave the thrill of long-distance biking. As we read above about its features, this bike will not disappoint those going for long rides.
So, whenever you are ready to embark on your next epic journey, ride with the Hero Glamour and discover what the road and the journey have in store for you.